Island Bakery Isle of Mull Cheese Biscuits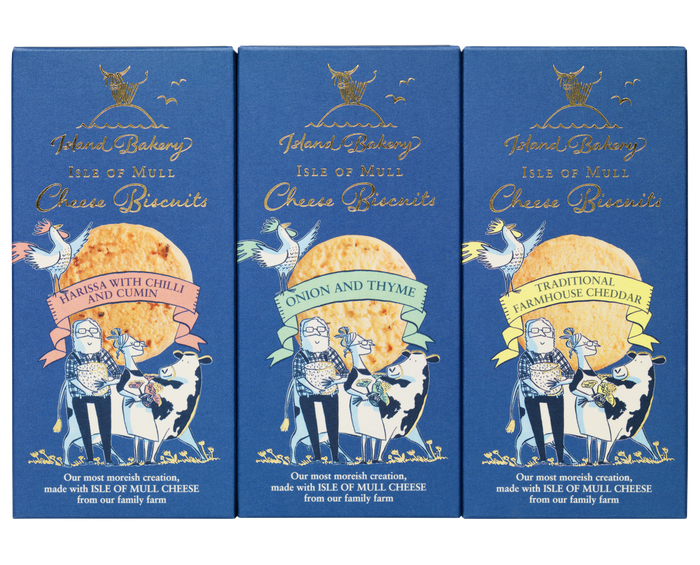 Traditional 100g
This unadulterated variety lets the flavour of Isle of Mull Traditional Farmhouse Cheese come to the fore. A rich, melt-in-the-mouth biscuit made with organic butter and flour, generously mixed with Isle of Mull Cheese.
Onion & Thyme 100g
These all butter biscuits combine Isle of Mull Cheese with onion and aromatic thyme for a mellow but moreish savoury taste. You may need to enjoy a refreshing drink alongside these. Perhaps your favourite craft beer?
Harissa with Chilli & Cumin 100g
These appetisingly spiced, all butter biscuits have a melt-in-the-mouth texture, with the Isle of Mull Cheese flavour gently warmed with harissa. Harissa is a North African and Middle Eastern staple, blending chilli with garlic and other choice spices. Our organic blend is warm without being too hot, with earthy cumin and a supporting cast of other fragrant spices.
The pack design features a lovely cover illustration in tribute to Joe's late father, Jeff, and mum, Chris, with one of their cows. The luxe feel of these superior cheese biscuits is reinforced by the addition of gold foiling for extra shelf appeal, and to make them a beautiful gift to give or receive.
TOP TIP: Put biscuits on a baking tray and warm in a medium oven for 5-8 minutes before serving to really maximise the flavour!