21 Oct 2020
The Great Irish Bake Off winner helps Genesis sweeten up cakes and pastry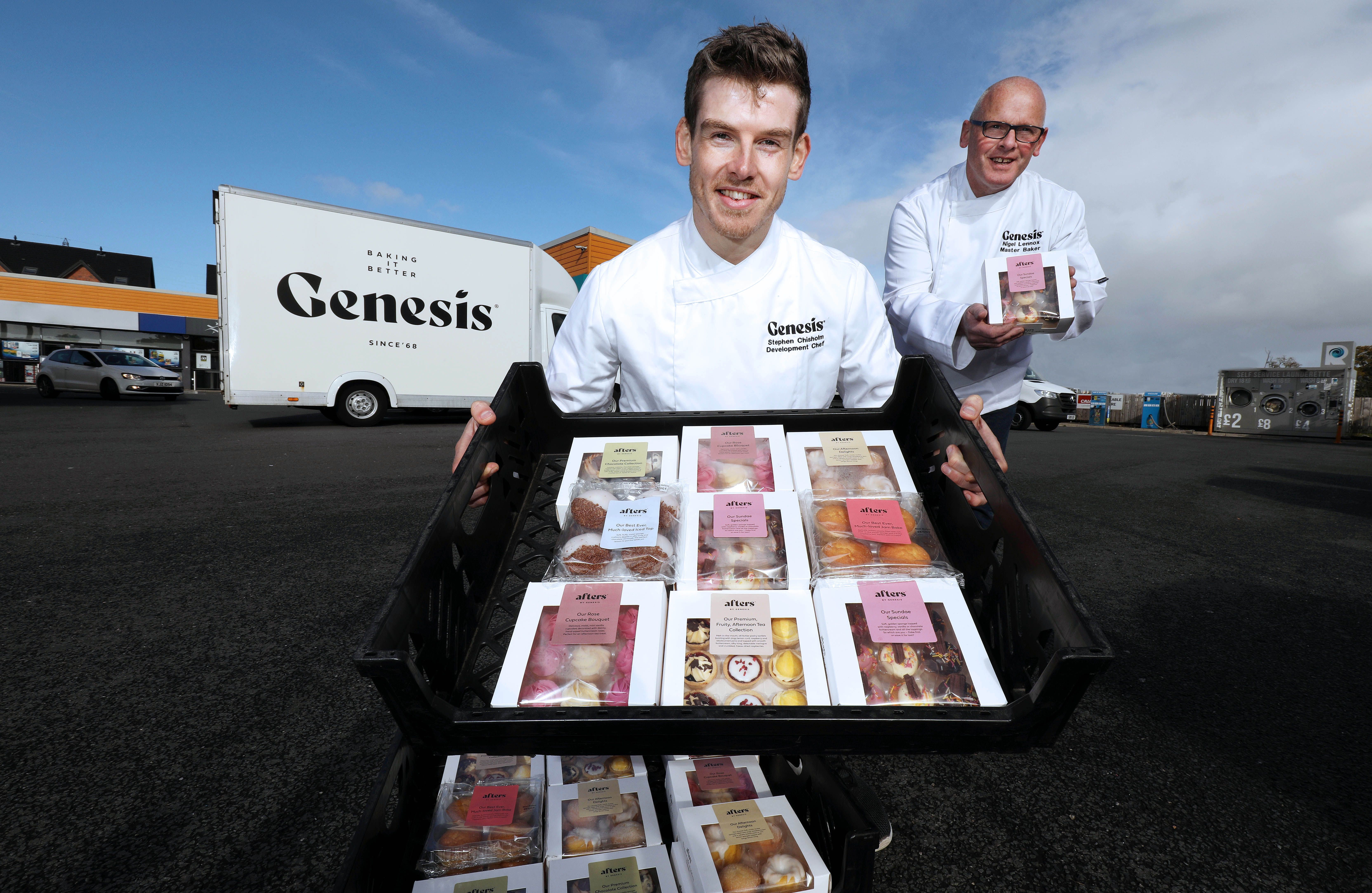 Magherafelt bakery, Genesis has joined forces with Stephen Chisholm, winner of the first series of The Great Irish Bake Off, to ramp up its offering with a new cake range.
'Afters, by Genesis' comes in packs of four to nine personal sized buns and pastries that combine all the baked goodness synonymous with the brand, including fluffy sponges, rich, velvety buttercream and sumptuous jams.
Stephen joined Genesis last year and has been working with the product development team and the company's highly experienced Master Baker, Nigel Lennox, to come up with new concepts, not only for the new Afters range but also for the bakery's wide range of prestigious retailers.
The Afters collection is available in stores across Northern Ireland and is a premium brand aimed at discerning customers who are looking for a special treat that tastes home-made.
Speaking about the new range, Paul Allen, executive chairman, Genesis, said: "At Genesis we are dedicated to continually evolving and improving on the range that our customers have loved and known so well since the brand began its story over 50 years ago.
"We were delighted when Stephen agreed to join us to work across our businesses. He combines a passion for food with restaurant and business experience which is an unusual but very effective mix.
"Nigel, Stephen and all in New Product Development have tried to come up with something for everyone with this range, with chocolate and fruity options and beautiful decoration which is expertly hand-piped by our fantastic team. We've even given two of our firm favourites - jam bakes and iced tops - an upgrade and have produced our Best Ever versions. We shall also have seasonal variations, so the offering will change over the weeks with new cakes being introduced."
Genesis products are sold in more than 600 stores across Northern Ireland. The bakery also produces a range of bread and cakes for retailers including Marks & Spencer and Waitrose.
Amateur home baker turned professional, Stephen Chisholm (29) honed in on his skills in the kitchen after becoming the first ever winner of The Great Irish Bake Off (aged 21). The 2013 eight-week televised series, based directly on the successful format of The Great British Bake Off, saw 12 contestants faced with a variety of challenges in all areas of baking, pushing many to their limit. Stephen's calm and playful approach throughout, along with proving to be the most consistent baker saw him take home the title in.
Post win, he spent his time working in the kitchens of some of the UK's top hotels, restaurants, and bakeries, whilst completing his studies. It was during this time he further improved his already excellent cooking skills by immersing himself in the kitchen surroundings learning from chefs, industry experts and cookbooks alike. As a business graduate Stephen also spent 2 years as a management consultant in Deloitte but ultimately decided the kitchen is where he belonged.