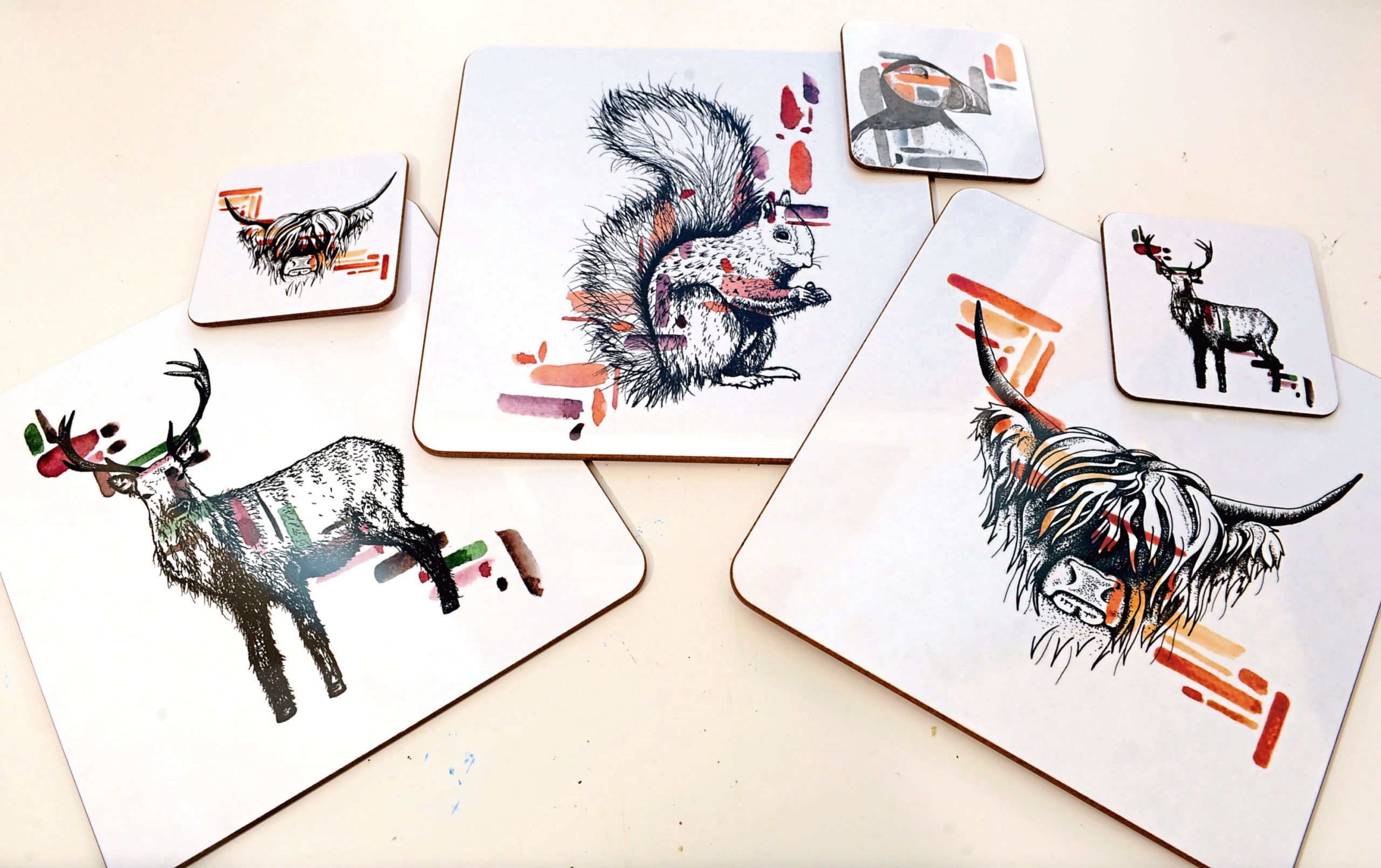 SARAH LEASK PUTS ART AND SOUL INTO HOME-RUN BUSINESS IN ABERDEEN
Sarah Leask has always aspired to a career in the art industry. Aberdonian Sarah was an avid fan of painting, drawing and crafting from an early age.
From there she went on to study graphic design and illustration at Gray's School of Art from 2012 to 2016, followed by work on kitchen design and planning.
"I did this for around 18 months after my time at art school," said Sarah.
"This is when I started setting up Sarah Leask Studio in my spare time."
The studio is the entrepreneur's art business, which began to shape up in 2017.
Operating from home, Sarah, who also works as an estate agent, designs and sells a range of accessories, homeware and stationery products.
She said: "In April 2017, I painted a Shetland map watercolour, which I then posted on Instagram.
"This was the clinching point for me wanting to start a business as quite a few people were keen to buy them. So, I ordered in prints of the design and started selling them to friends and people I knew, as well as businesses and gift shops across the country where I thought they would be a good fit.
"I feel like I never really consciously decided to start a business but once I got a taste for it the idea of working for myself and the opportunity to do what I love was very appealing."
Sarah's product portfolio includes illustrated prints, original art, greetings cards, postcards, wrapping paper, notebooks, chopping boards, placemats, coasters, tea towels, tote bags, magnets and insulated water bottles.
The items are perfect for those looking to enhance their interiors or give a gift to a loved one.
"All of my work is created using watercolour," Sarah said.
"I love bright colours and patterns, and there is a clear rainbow theme throughout my work and branding.
"I also sell original artwork and complete commission requests, as well as offering a wedding stationery service.
"Commissions include anything from watercolour map paintings, watercolour skylines, pet portraits, venue drawings, landscapes and florals.
"My wedding stationery is currently completely bespoke to your ideas and needs. But I am also hoping to launch a couple of design suites soon, which will be available for personalisation."
Sarah takes inspiration from Scottish culture and wildlife – mostly from Shetland, which is where the artist grew up.
"Shetland is a very creative and beautiful place," she added. "I'm interested in the concept of meaningful places, and the sense of community and home.
"As for how I create my artwork, it's all done by hand using watercolour and pen.
"I then scan in the artwork at a high resolution, so that I can bring it into Photoshop, before deciding what type of product I think it would be best suited to.
"From there, I can clean it up and manipulate it for print, whether that means creating a pattern or stand-alone illustration.
"Another important part of the process is researching suppliers and companies which are able to help me print my designs on to suitable products."
Particular pieces can take a considerable amount of time for Sarah to perfect, while others can be completed relatively quickly.
Sarah said: "My watercolour work can be quite quick as I have developed my technique and feel it is an area that I am relatively confident in.
"Pen drawing and detailed works, such as a house portrait or building drawing, may well take me up to six hours – it just depends on the complexity. "Overall, I would say I am a quick worker and normally know the direction I want to take something in (without too much sketching or planning beforehand).
"I think my designs add that bit of diversity to an interior. They are eye-catching, fun and are made with the goal of making people happy.
"You can mix and match between my ranges or, if you like, everything to match – I have enough products and variations of designs for you to have co-ordinating items."
The different works are available to purchase at stockists across the north-east and further afield including All Wrapped Up in Stonehaven, Geek Bothy in Kemnay, Scottish Design Exchange in Buchanan Galleries in Glasgow, and Visit Scotland iCentres in Portree, Stornoway, Kirkwall, Rothesay and Craignure.
Sarah said: "It has been challenging building Sarah Leask Studio.
"Having your own business is no mean feat. You have to be hard-working and driven.
"With working full-time, as well, it does take up a huge portion of my life, but I am very dedicated to it and wouldn't have it any other way.
"I have grown the business organically, which has been the best way for me to make it work.
"I did this by throwing myself in at the deep end and saying yes to every opportunity.
"More recently, since all the shops have closed due to Covid-19, I have been trying to build my social media following a bit more and focus on who my customers are.
"I now have a mailing list which you can sign up to for updates from me."
On future plans, the business owner is keen to develop more products and secure more stockists.
"I don't have any major plans for the business this year any more, but I'm developing my floral range. I'll also be designing diaries and calendars in the near future too, so look out for those.
"Once I've launched all of the products, I'd like to find some new stockists that would be a good fit for the new designs.
"I have been taking part in virtual markets and online shopping events instead of attending shows this year, so I am planning to do more of that and more social media promotion.
"Throughout 2019, I really worked on my wholesale business and made connections with independent retailers. However, this year has been more focused on my own online shop.
"It was well-needed and has certainly paid off."