08 Aug 2018
Punjana Wins Two Stars at Prestigeous Awards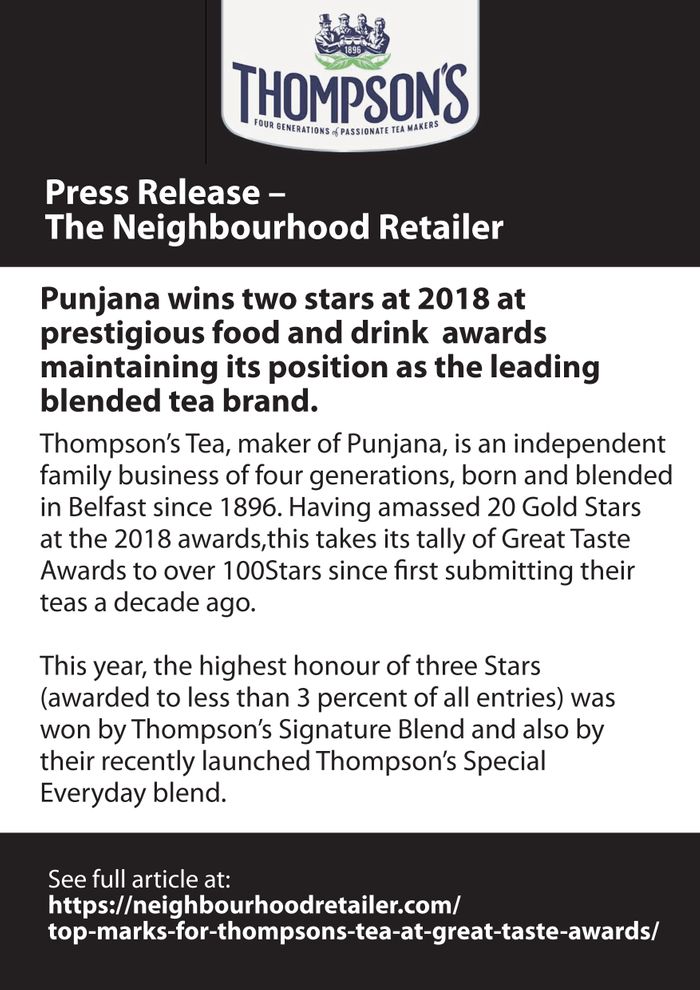 Punjana wins two stars
Thompson's Tea, maker of Punjana, is an independent family business of four generations, born and blended in Belfast since 1896. Having amassed 20 Gold Stars at the 2018 awards, this takes its tally of Great Taste Awards to over 100 Stars since first submitting their teas a decade ago. This year, the highest honour of three Stars (awarded to less than 3 percent of all entries) was won by Thompson's Signature Blend and also by their recently launched Thompson's Special Everyday blend.
Amongst its other successful winners was Thompson's hero brand, Punjana, winning two stars and maintaining its position at number one, having won more stars than any other product in the all-important 'Blended Tea Bag' category over the last 10 years.
Other success stories from Thompson's Tea this year include two star winners, Thompson's Irish Breakfast, Thompson's Decaf and Thompson's Scottish Blend. Their speciality tea range was also recognised with one Star going to Thompson's Darjeeling, Punjana loose tea, Scent of a Rose, Hedgerow Heaven, Rhubarb Spritzer and Black Tea Orange Cookies.
A family business through four generations, Thompson's Tea was founded in 1896 by Robert S Thompson, in a warehouse near Belfast docks. His passion for quality has been shared by subsequent generations to the extent that each and every blend that is created has been first taste-tested and approved by a member of the Thompson family.
Joint managing director Ross Thompson comments: "For generations of Thompsons, tea has been our obsession. We care about every single pack of tea that we produce and select teas only from growers who share our passion for making something special. These teas are grown in exotic climates, far from home, but our frequent visits to tea gardens in Kenya and Assam have helped us forge trusting relationships with growers, based on our mutual love of great tea. We choose to pay more to secure the best growth, picked during peak quality periods when sunshine and rainfall are in perfect balance, and it is very encouraging that our commitment to better quality has been recognised by the judges from the much respected Guild of Fine Foods in this year's Great Taste Awards 2018. The fact that this raises our total tally of awards to over 100 Stars is hugely satisfying and makes this year a memorable one."
Thompson's Tea, from their Belfast tea factory now produces tea for over one third of Northern Ireland's tea drinking population. The Thompsons have long striven to make the "perfect everyday cuppa" and with these latest awards they have taken one step closer to achieving that goal.