15 Feb 2021
February 2021 press release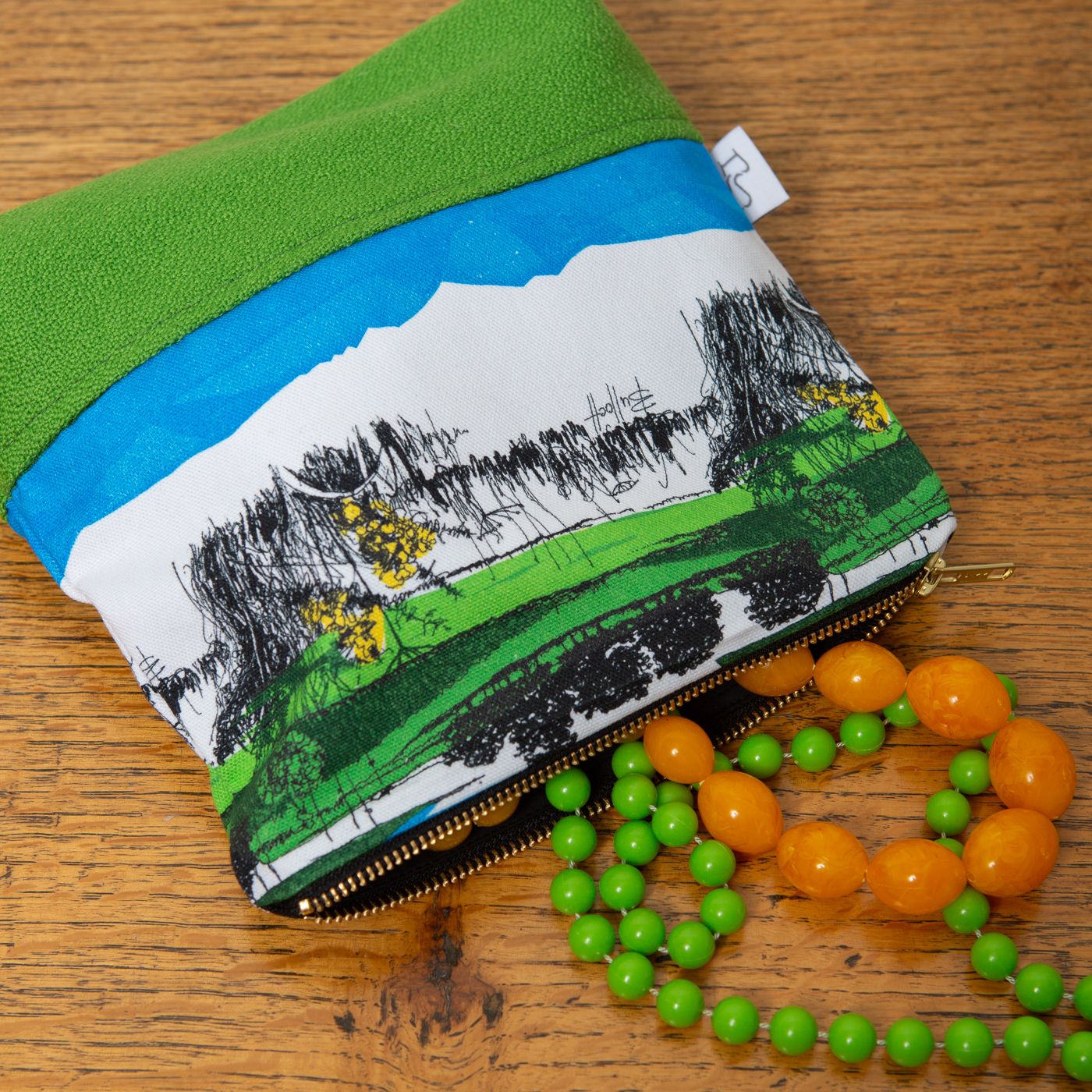 The Bulloch Collection has a distinctly retro feel with the artwork taken from original screen printed ink drawings by Lyn Bulloch.
The Bulloch Collection is a range of scenic mid century inspired designs by Sarah Jane Hemsley Upholstery.
Each digitally printed design is based on a land or seascape of the Isle of Bute. The range of handcrafted products has been expanded for 2021 to include cosmetic bags and glasses cases. These beautifully made items ensure all trimmings from the homeware range are used, making each one ethical as well as unique.
The Bulloch Collection has a distinctly retro feel with the artwork taken from original screen printed ink drawings by Lyn Bulloch.
Although now living and working as an upholsterer in Twickenham, South West London, Sarah Jane grew up on the Isle of Bute - which sits just off the west coast of Scotland. Lyn Bulloch was her school art teacher and family friend. Lyn attended Glasgow School of Art in the late 1950's/early 1960's where he developed his distinctly mid century style. He applied this over his lifetime to depict the scenery of the island he loved. Sarah Jane always found Lyn's work inspirational and irresistible and is delighted to be allowed to use his work to create her designs.
The light bulb moment in the Bulloch Collection creation came a couple of years ago when reupholstering a customer's armchair, the fabric put Sarah Jane in mind of Lyn's work and started her down the "ooh, what if…" path. Using photocopies of a couple of Lyn's screen printed Christmas cards she began creating layouts on the living room floor. And so it began….
Printed on heavy weight organic cotton, to date the Bulloch Collection has 3 designs:
'Waverley' (in 3 colourways; original blue, pale grey and dark grey) - the iconic last seagoing paddlesteamer in full steam on the Firth of Clyde.
'Sleeping Warrior' - a view of rolling fields in the foreground with Arran's 'Sleeping Warrior' range of hills on the horizon. In heightened shades of blue and green.
And the contemporary twist on a 'toile de jouy'pattern, 'Dunagoil & Shore Road' - an ancient rocky cliff overlooking a bay in heathery purples and a residential road hugging the shoreline in pinks & reds.
The entire Bulloch Collection is created, designed and made in the UK with the new range of cosmetic bags and glasses cases being made by a social enterprise in Leith, Scotland.
As well as beautiful interior ware; fabric by the metre, luxury cushions (partnered with Bute Fabrics wool also from the Isle of Bute), drum lampshades, sets of table napkins and tea towels, Sarah Jane couldn't resist using the range to reupholster some classic vintage pieces of furniture.
The designs sit well in a range of settings particularly modernist, coastal and Nordic inspired interiors, looking at home with natural textures such as wood, fleece and stone.
Sarah Jane is working on a new design for launch later this year, and in development there's matt coated wallpaper and outdoor fabric suitable for deckchairs …. maybe even one day to be seen gracing the deck of a certain paddlesteamer!
More information and insights about Sarah Jane's work and the Bulloch Collection ….
www.sjhupholstery.com
https://www.facebook.com/sarahjanehemsleyupholstery/
https://www.instagram.com/sarahjanehemsleyupholstery/
To contact Sarah Jane; email: sarahjane@sjhupholstery.com mobile: 07876 528213