01 Jan 2022
Glencroft launches unique Yorkshire Dales wool project with local farmers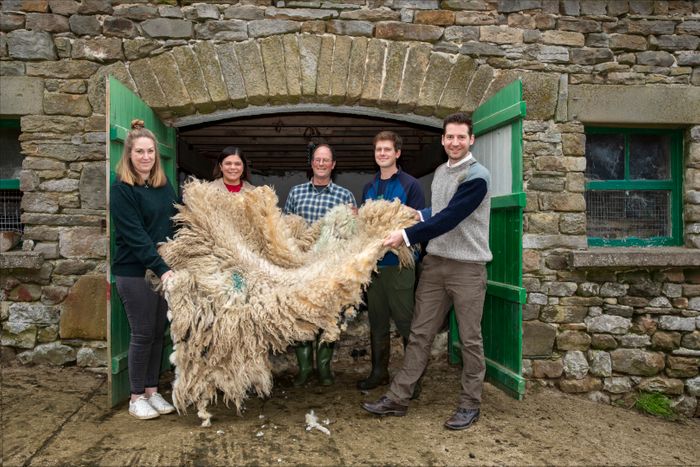 Countrywear clothing brand Glencroft is to launch a traceable 'Farm to Yarn' Dales wool collection in 2022.
Clapham-based Glencroft was awarded £5,000 in grant funding from the the Yorkshire Dales National Park Authority's Sustainable Development Fund (SDF) to support the innovative project, which it hopes could pave the way for the production of more sustainable and entirely traceable wool yarn products.
As part of the Clapdale Wool Project, Glencroft will purchase wool fleeces from local farms within a five-mile radius of Glencroft's Clapham home at a competitive price. The wool will then be scoured, processed and spun in a variety of local factories and mills in Yorkshire.
The unique high-end and highly sustainable Yorkshire-made yarn, which will be traceable from farm to end product, will be used to make a range of sustainable woollen knitwear, knitting yarn and tweed products, which will be sold online by Glencroft.
Inspired by a similar project in the Lake District which used wool from the Herdwick breed, Glencroft owner Edward Sexton, has brought together a team of British wool and fashion design experts to create a Yorkshire equivalent using traditional and modern sheep breeds, including Dalesbred, Texel, Teeswater and Blue Faced Leicester.
"By using breeds from the hills which surround us in Clapham, we will produce a wool that relates directly to the economy here in 2021 - not just the traditional rare breeds like the Dalebred, but a combination of the old and the new. This year we will use wool from two local Clapham farms - Dawsons of Bleak Bank and Whitakers of Bowsber Farm – both of whom farm their sheep in the fields around us," explained Edward.
Local farmer, John Dawson, commented: "Bleak Bank is very pleased to be part of this project. Wool production in the Dales is part of our cultural heritage and for too long it has been undervalued, it has many qualities including being a naturally grown and a totally sustainable product of nature. We wish Edward and Glencroft every success."
"By working closely with local farmers and incorporating them into the value chain from sheep shearing to production of the end garment, I want to ensure farmers are treated fairly for their produce and help them to achieve a better price for their fleeces - particularly those breeds not normally associated with quality countrywear," commented Edward.
The Clapdale Wool Project will create a circular economy in the Yorkshire Dales allowing local farmers to be paid more for their fleece, with 10% of profits fed directly back to local farmers.
The Flock, creators of British breed specific traceable yarn, together with knitwear brand KnitLab North, will play an integral role in the feasibility of the initiative which, at a time of plummeting wool prices, is bucking the national trend by investing in this ancient material.
Bringing together the expertise of Maria Benjamin, who runs a regenerative farm diversification business at Dodgson Wood Farm in the Lake District, Gloria Mazzer a London-based advocate of circular fashion and regenerative businesses, and Zoe Fletcher who completed in a PhD in the characteristics of British wool, The Flock will provide expert advice throughout the process – from the best blend of the breeds and types of fleeces to use to create a high-end yarn, to the creation of a commercially viable and highly sustainable Yorkshire wool collection.
Zoe, Co-Founder at The Flock, said: "By coming together with Glencroft and KnitLab as educators, designers, farming advocates and manufacturers, to create farm-specific, traceable yarns using British breed fleeces at a commercial level, we can elevate this wool above and beyond the greenwashing so prevalent in the fashion industry at the moment.
"Incorporating everyone into the into the value chain, from farmers through to production of the end garment, we ensure that farmers are treated fairly, building relationships based on trust, so there is no need to greenwash this product because that narrative comes through."
The Flock is expert in this raw material and will provide insight on everything from how to gather the best quality fleece, and getting it through the scouring and spinning stage, to working with Glencroft and KnitLab North, to create a commercially viable collection.
Edward added: "Many people already appreciate the properties of 100% wool. However, we want to show how it is possible to ensure that farmers get a fair price for their fleeces, whilst working with and promoting the breeds on our doorstep and explaining the processes and costs to supply an authentic, traceable product that will last for years."
The design, development and production of the Clapdale Wool collection, which will include jumpers, scarves, hats and flatcaps, will be undertaken by British knit design consultancy, KnitLab North.
The exact provenance of each product will be detailed clearly on labels which will allow consumers to see the exact sheep breeds used in the yarn, their qualities, history and how they relate to the Yorkshire Dales.
As well as supporting local farmers and creating a high-quality sustainable product, the project will also play a vital role in supporting the Yorkshire Dales National Park's natural beauty, wildlife and cultural heritage.
Carl Lis , Yorkshire Dales National Park Authority (YDNPA) member champion for sustainable development, said: "We are delighted to support the Clapdale Wool Project. It embodies the distinctive, living, working and cultural landscape of the Dales, whilst supporting our objectives to create strong, self-reliant communities here. We look forward to seeing the results of this fantastic initiative next year."
Edward concluded: "Within just five miles of our shop, we have an amazing variety of different breed fleece characteristics to work with. This, together with the relationships we have with our local farmers, and the fact that we have some of the highest land management and livestock management practices in the world, means that there is no reason why, with projects like ours, we can't be at the forefront of high-end wool production in the UK."
Glencroft has already received the first 100 kilograms of raw fleece which is ready for processing from the Dawson's farm, and it is hoped that the yarn and knitwear collection will be available to buy in the first half of 2022.