Glencairn Crystal launches The Glencairn Gin Goblet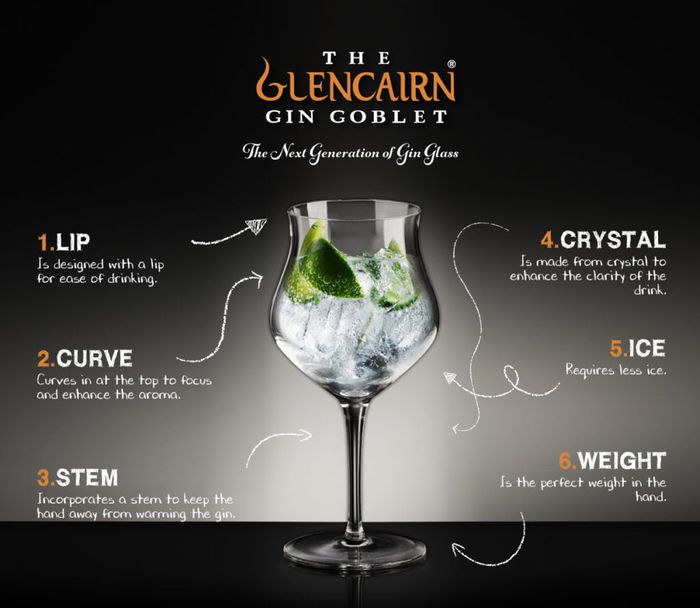 The next generation of gin glass
The maker of the world's favourite whisky glass, Glencairn Crystal, has launched the ultimate gin drinking vessel – The Gin Goblet – in time for the festive season.
The Glencairn Gin Goblet is the definitive crystal glassware for your favourite gin serve, whether it be over ice with tonic and the garnish of your choice, or a twist on a gin cocktail.
The East Kilbride based family-owned crystal glassware company is famous for creating the iconic official glass for whisky, The Glencairn Glass, selling over 65,000 Glencairn Glasses every week around the world. With the huge rise in the popularity of gin in recent years, drinkers and distillers have been asking Glencairn Crystal why they haven't created a dedicated gin glass.
In response to this, Glencairn Crystal investigated the world of gin and were surprised to discover that existing gin glasses tended to be very similar to each other and that many gin drinkers were already using their Glencairn Mixer Glass to enjoy their favourite tipple. Originally developed in consultation with the Canadian whisky industry, the Glencairn Mixer Glass was designed to allow appreciation of premium whiskies whilst being able to accommodate a mixer or ice.
Using their Mixer Glass as a starting point, the Glencairn design team carefully considered the needs of the gin drinker, the bar staff and the distillers to create The Glencairn Gin Goblet – with the aim of enhancing the entire gin drinking experience.
In order to produce a next generation gin glass, The Gin Goblet has been carefully created to incorporate a number of key features including: