11 Nov 2020
Glasgow glass artist Marc Peters goes global with delightful designs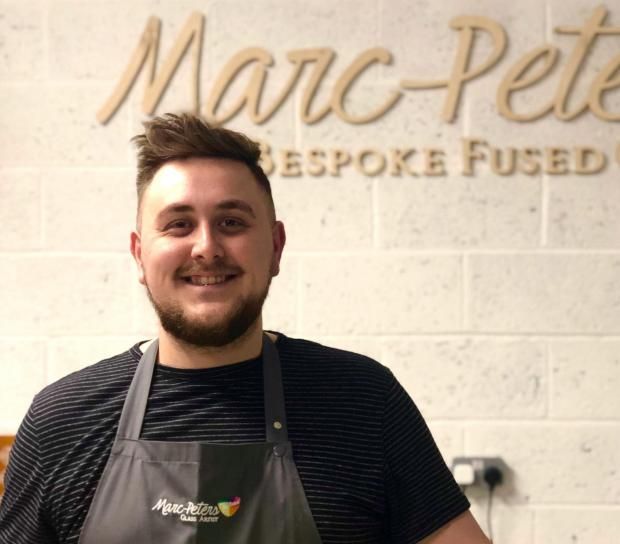 Marc Peters is a glass artist based in Glasgow
What's the story behind your brand?
I studied an HND in art glass design and production at City of Glasgow College and went on to get an apprenticeship with a stained-glass company in Glasgow. Some of the work I did there included renovating church windows, creating brand new pieces for clients and even making stained glass for TV shows.
Alongside this apprenticeship I started my own business. I bought a small kiln and set it up in my garden shed, and started coming up with my own designs and creations. I then moved into a bigger, shared space before taking the leap and going full-time in February 2019. A year later I moved into another bigger studio on my own, and bought myself a second kiln to help keep up with the demand.
What do you make?
I make a variety of fused glass homeware, decorations, greetings cards and gifts. I'm inspired by all things Scottish and my Made in Scotland collection, which includes the world-famous Tunnock's tea cake, has proved to be super popular. I've even had a stockist in Hong Kong get in touch to sell them out there!
Christmas is always a busy time for me – who couldn't resist a wee decoration or two? For 2020 I brought out a new Christmas decorations range including Santa and his elf, a polar bear and a snowman.
My personal favourite is the gingerbread houses. Each gumdrop has been hand-crafted and fired in my kiln before being fused onto the decoration, and the screen print on the glass gives a crisp design.
How do you make them?
Every new design starts with a sketch. Once I know how the finished piece will look, I draw out the shape the glass needs to be then start cutting out the glass I need. I then add any other coloured or powdered glass needed to create it and it gets fired in one of my kilns overnight to a top temperature of around 800c. When they are cooled, they get dusted off and labelled and finished with a satin ribbon.
What sets you apart from other makers?
Everything I make is to the highest quality with great care and attention to the detail. My bespoke panels are one of a kind and individual to everyone. As well as that, each decoration has its own character and individuality.
What are your most popular products?
During lockdown I started making rainbow arches, which were especially popular with people sending loved ones a little something to keep everyone's spirits up. But my most popular product by far are my wee robins – they just fly off the shelf! Each person who buys a little robin from me has a special story about why they want one or why they are gifting them to someone. I feel proud to be part of people's special memories.
www.marcpetersglass.co.uk