06 Mar 2019
A Different Type of Nature: A TCottee Exhibition at the Alan Reece Gallery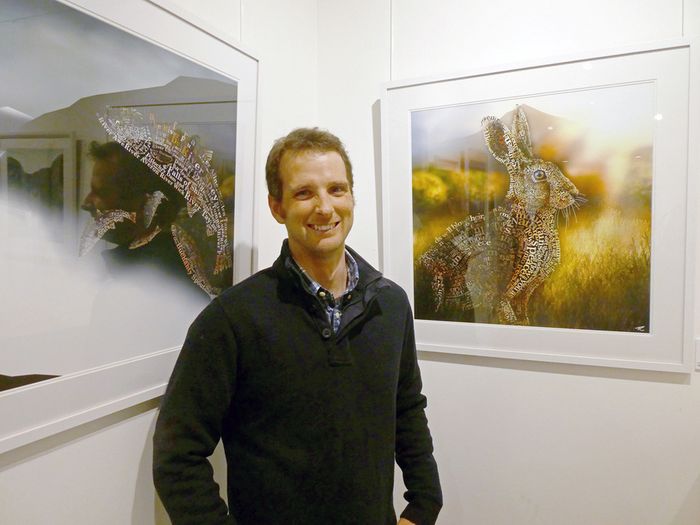 Tim Cottee uses form, colour and text to create his atmospheric images of Scotland's landscapes and native wildlife
Graphic artist Tim Cottee's latest exhibition A Different Type of Nature - now on display at the Trust's Wild Space visitor centre and gallery in Pitlochry - draws on a local hero's writing.
"I lived in Dunbar where I taught surfing at Belhaven beach beside the John Muir Country Park. I would walk past Muir's statue and birthplace every day and I still find many of his quotes incredibly relevant."
Tim's love of words didn't come easy and his early struggle with reading still informs his work which features quotations and words at its centre.
"I was diagnosed with dyslexia as a child so everyday reading, writing and the simple articulation of words was a challenge. I would spend hours staring blankly at a page of text confused about what all these black and white symbols jumping around in front of me meant. However, when someone read the words out to me I would suddenly understand and see very vivid images.
"My current work stems from that wonderful moment when the story becomes a picture in my imagination."
Tim's engaging designs result from a long process that starts off with an idea captured in a sketch. He researches his locations and subjects to better understand form, lighting and mood - however he's keen to emphasise that the words are just as important.
"I'll also research the text, or author, to try and understand how the quotes or story could translate into a visual concept. Once it's all solid in my mind, I start creating the complicated typographic compositions and contours on my computer. The time this takes varies for each piece, but safe to say it's far too long!"
Being an avid surfer, many of Tim's missions to find waves have taken him off well-travelled paths where he finds plenty of inspiration for his art. "I am captivated by the changing landscapes and wildlife that I come across while I'm exploring and I try to recreate this feeling in my work. I believe Scotland to be a truly unique country, with natural habitats unlike those found anywhere else.
"The work of the John Muir Trust is hugely important – not only do we need to preserve and protect wild place and wildlife, but also we need educating about the role of these places in our lives and how we can spend time in them without damaging or disrupting the very thing we have gone there to enjoy.
"John Muir's writing recognised the value, beauty and healing power of nature and I hope that my work can remind and inspire people of this."
See Tim Cottee's exhibition – A Different Type of Nature – at the John Muir Trust's Wild Space in Pitlochry until 30 April 2019.
Photograph of Tim by Kevin Lelland