Shetland Soap Company
Stand: C17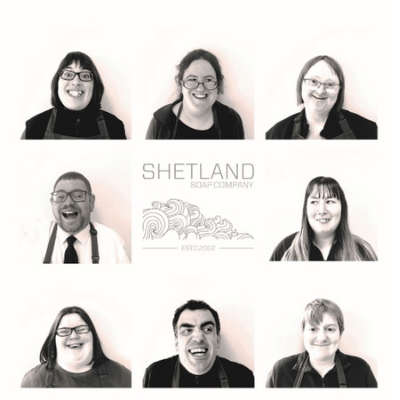 Shetland Soap Company is proudly part of COPE Ltd, multi-award-winning social enterprise, based in the Shetland Islands.
At Shetland Soap Company, we work alongside adults with learning disabilities to produce a range of handmade soap and skincare products, inspired by our beautiful islands.
Great Products, Great People
Address
Lerwick
United Kingdom
New for this year! We now make candles to match our beautful soap ranges. Hand poured, soy wax candles made with the highest quality oils. They match our ranges perfectly and are made in house by our ...

An outstanding collection of high quality, handmade soaps available as traditional hard bar or glycerine soap.

Shoormal' is the Shetland dialect word for the high water mark on the beach; the water's edge. This clean and fresh fragrance is inspired by the turquoise blue that we see on a summer's day, when our ...

With over 2700 km of intricate coastline, Shetland's rocky outcrops, white sand and shingle beaches or 'ayres' provide endless coastal walking opportunities. There is simply nothing more invigorating. ...

Hjarta' means 'from the heart' and we love the heady combination of our most prolific of plants – rhubarb and wild rose. The deep floral tones are reminiscent of a long summer evening when, this far n ...

In Lerwick, the infamous Lodberries date back to the 17th century when visiting ships called to trade with local merchants. The deep and sophisticated agarwood and fig fragrance is reminiscent of Shet ...

A firm favourite with customers, 'Chilled Oot' has been the signature scent of Shetland Soap Company since it was established 19 years ago. The sweet blend of coconut and vanilla is the true essence o ...

The crisp, clean and refreshing blend of lemongrass, rosemary and lavender is a long-established and favoured fragrance, particularly with our crofting community. Immersing yourself in these soothing ...

'Alamootie' featuring black orchid and amber fragrance, is named after the Shetland dialect word for storm petrel - a rare bird that can be found nesting in the ancient Pictish broch on the isle of Mo ...

'Norseman' fragrance with its notes of leather, cedar wood and black pepper, is a direct reference to Shetland's strong Viking heritage. This hair & body wash has been designed to both gently cleanse ...

Whatever your skin type, these highly moisturising mousse like creams will give your skin the love it needs. A little goes a long way.   products available - Hand cream, Night cream, Rescue cream.
Special Offer: 10% off orders placed by new customers

10% off on orders for new customers

This offer is only available at the show

Offer expires on: 29-Mar-2024

Special Offer: Free Shipping

Show only offer

This offer is only available at the show

Offer expires on: 29-Mar-2024
General Gift

Scottish Gifts

Wellbeing