Leona Stewart Glass
Stand: E3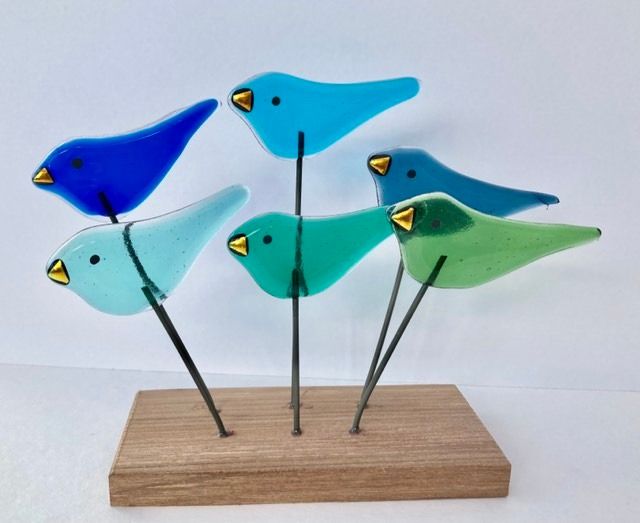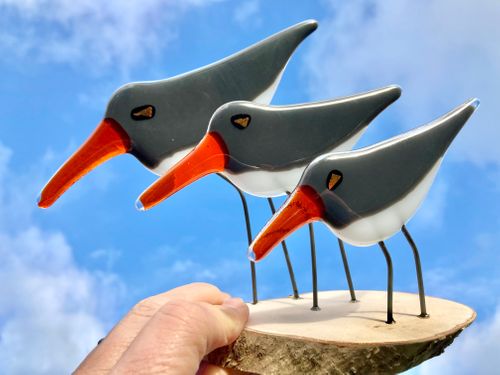 Leona Stewart is a glass artist based in Ayr. Her love of her garden, birds, local landscapes and environmental surroundings influence her designs. Her studio has been established in Ayr for over 15 years where she creates and teaches.
Leona creates a wide range of fused glass sculptural giftware including birds, coastal themed gifts, flowers and hanging gifts and decorations and dichroic jewellery.
She is a member of the Scottish Glass Society, Contemporary Glass Society & has exhibited at The Gallery & The Barony in West Kilbride (Scotland's Craft Town), Roger Billcliffe Gallery, Glasgow Print Studio, The Harbour Arts Centre in Irvine & The Maclaurin Galleries in Ayr.
Address
Ayr
United Kingdom
A lovely wee fused glass star with shades of reds/yellow.  It is approx 9cm wide x 9cm long and has a red ribbon tied in a bow for hanging on a wall or in your window. Comes in a box.

This decorative piece consists of 6 rainbow coloured fused glass birds with painted eyes and beaks.  They stand on strong wire legs and are a variety of heights all on a wooden base, approx 8cm diam.  ...

This fused glass Flying Puffin Circle Hanging is hand painted and I have used coloured glass powders.  The wire circle is approx 10cm diam.  It comes with a ribbon bow and in tissue/bubble wrap and in ...

A strong wire swirl with 4 fused glass shades of blue fish.  Approx 16cm diam. Hangs on a coloured ribbon and comes wrapped in bubble wrap in a box.

The Stag & Bird T-Light Holder is fused and hand painted glass with green frit and silver glitter snow between the 2 layers of fused glass.  11cm wide x 11cm tall x 6cm deep with glass t-light candle ...

A lovely pink fused glass water Lilly on a green pad.  The fused glass stands on a solid wood disc approx 8cm diam which is locally sourced and can vary in size.  The glass is approx 10.5x10cm.

This fused glass Bluetit Circle Hanging has lovely bright blue and yellow cut and fused glass with a dichroic eye and beak.  The wire circle is approx 10cm diam.  It comes in tissue/bubble wrap and in ...
Special Offer: 15% Discount on Fused Glass Jewellery

15% discount on Dichroic Glass Jewellery

This offer is only available at the show

Offer expires on: 25-Jan-2023
Garden & Outdoor

General Gift

Glass & Ceramics

Interior Accessories

Scottish Gifts