Ladycrow Silks / Glenshee Pottery
Stand: A39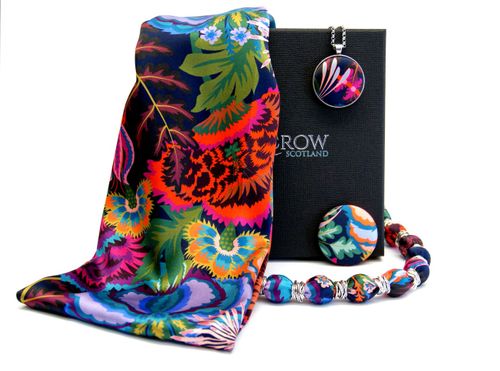 At Ladycrow Scotland we are passionate about creating fabulous scarves and jewellery and are proud to say that all our products are made in the UK. We use only the finest materials so that we can offer you affordable silk and velvet scarves hand dyed in a wide range of colours. Our immensely popular pewter scarf rings and jewellery collections are designed/hand finished in Scotland and are presented in our bespoke jewellery boxes.
Liberty Of London Silk Satin scarves, necklaces and brooches continue to sell well and we are delighted to add delightful new designs to our Spring 2022 catalogue.
Glenshee Pottery
The Charming and quirky 'Wee Bothies' are hand made in the heart of Scotland from start to finish and no two will ever be exactly the same. Priced to sell and with an optional gift box they are available in a selection of different designs and colourful glazes. Inspired by the many old buildings that dot our rugged landscape a collectable 'Wee Bothy' makes a wonderful gift or a fond reminder of a visit to Scotland.
Address
Brechin
United Kingdom
Fashion Accessories

Glass & Ceramics

Jewellery & Watches

Scottish Gifts