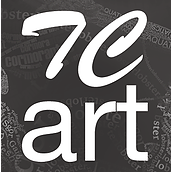 T Cottee Art is a Scottish based graphic artist who combines text and story with the beauty and nature of the countryside; creating 'a Different Type of Art'.
Work is inspired by Scotland's diverse landscapes and a love of outdoors and all things wild. Type is used to 'paint' a stunningly original image, whilst providing information, stories and narratives to create an informative and beautiful image.
All artwork is designed in-house in Musselburgh, East Lothian and printed locally in the city of Edinburgh. T Cottee products are truly unique, both made in and inspired by Scotland. A perfect addition to any home, gift shop, café, restaurant or hotel.
Images are available in a range of products and sizes including luxury art cards, mounts and framed work.
Address
Musselburgh
United Kingdom
Special Offer: New Taster Selection with FREE UK postage

For this year's online show we have created a special "taster" selection of our most popular images across the range and products.

This offer is only available at the show

Offer expires on: 31-Mar-2022
Art & Prints

General Gift

Greetings Cards & Stationery

Interior Accessories

Scottish Gifts