Fiona Matheson Studio
Stand: CG36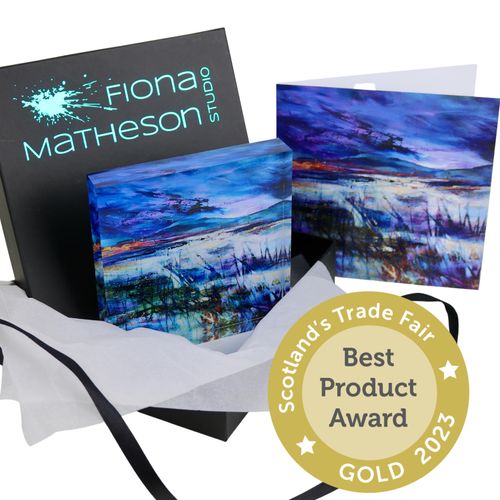 GOLD WINNER 2023 for Best Product, Home & Gift
Fiona Matheson is an award-winning established artist, her expressive landscapes are exhibited widely. These colourful paintings pay homage to her Scottish homeland which embraces the history, culture and traditions which thrive throughout the Highlands and beyond.
Every piece of the 'Studio' range is based on these contemporary images and designed in the Scottish Highlands.
We operate on small runs; our exquisite pieces are designed to be loved for years to come. As a trusted brand with heritage, we deliver on quality, uniqueness, and professionalism. Our mission is to create a fresh offering of luxury accessories and homewares which transcend trends and seasons, by prioritising the core values of authentic design-led products. Please be assured that a personal, Highland service, awaits you.
Fiona is showcasing a range of home and fashion products. Including super-soft vegan suede cushions and oversize canvas prints. Her celebrated collection of luxurious scarves clearly makes a bold statement and, like her original artwork, play with colour, pattern and scale. This truly modern twist on a wardrobe essential is double-side printed using state-of-the-art technology onto 100% silk and skilfully finished with a hand rolled edge.
The NEW collection of stylish, wide cuffs and earrings, are a perfect choice to complement this expanding luxury brand.
Address
Inverness
United Kingdom
Special Offer: Low minimum quantities for show orders

This offer is only available at the show

Offer expires on: 31-Jan-2023
Art & Prints

Fashion Accessories

General Gift

Jewellery & Watches

Scottish Gifts